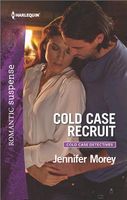 Series:
Cold Case Detectives
(Book 3)
Eager to make a fresh start in life, former homicide detective Brycen Cage had thought he'd left Alaska behind for good, hosting a TV crime show. But when he's recruited back home to investigate a state trooper's long-unsolved murder, Brycen never expects to be so drawn to the victim's beautiful widow. An adventurous bush pilot raising her young son alone, Drury Decoteau manages to get past Brycen's defenses -- a no-go for the lone wolf. Yet as he works closely with Drury and falls even harder for her, Brycen must also avoid a killer -- who will do anything to keep dirty secrets hidden -- and protect the love he's come to cherish.
Good book. Brycen has made a new life for himself, hosting a television crime show where he solves cold cases that have haunted him. He's surprised when the head of Dark Alley Investigations comes to Chicago to recruit him for his PI firm. He's not happy to discover that the case Kadin wants him to solve is in Alaska, a place with dark memories that he was happy to leave behind. But the case of a murdered state trooper intrigues him, and he agrees.
Drury is still mourning the death of her husband, and not satisfied with the lack of progress in the investigation. She goes to DAI with her request for help, and gains new hope that answers will be found. She has also received a couple threats, and worries that her son is in danger because of it.
From the moment they meet, there is a connection between Brycen and Drury. She is surprised by her attraction to a man who so obviously wants nothing to do with it. Brycen has avoided relationships and anything to do with family since he left Alaska years before, haunted by a death that he feels responsible for. But from the very beginning, Drury and her son Noah get past his defenses. The escalating threats against Drury bring out an unexpected protectiveness in Brycen. He also forms a bond with Noah, who is having a hard time dealing with his father's death. There were some really emotional scenes between Noah and both Brycen and Drury. Drury hadn't been looking for a new man in her life, especially one that has no intention of staying in Alaska. She is drawn to his strength, but also to the hint of vulnerability she senses in him. I loved her reaction when she found out what had happened, and what she did about it. It was pretty special to see how she stood up for him. She also melts over the way he helps Noah. The attraction between them continues to build until they can no longer resist it. But Brycen still balks at the idea of forever with someone, and Drury can't do a relationship without commitment. A conversation with Kadin gives Brycen something to really think about. I loved Brycen's big moment at the end, and Noah's willing participation.
The suspense of the story was really good and kept me turning the pages to see what was going to be revealed next. I couldn't tell at first if some of the information was related to the killing, or just part of the background. Even as connections became clear, I didn't expect the reason to be what it was. The final confrontation was really intense, and answered a lot of the questions. I loved how Brycen involved Drury from the start, and that she wasn't just a tagalong but a full participant.