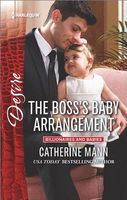 Series:
Billionaires and Babies
(Book 73)
Lourdes Brothers of Key Largo
(Book 1)
Widower Xander Lourdes will do anything for his toddler daughter. But in a high-profile custody battle, his millions only go so far. What he really needs is a wife, in name only. And he has just the woman in mind…if only he weren't so drawn to the beautiful redhead!
Zoologist Maureen Burke is still reeling from a painful past, but her boss's proposal comes just as her work visa is expiring. If they're not careful, the heat between her and Xander may destroy the no-strings situation they're both counting on…
Good story of a marriage of convenience and how it becomes the real thing. Xander is a widower with a toddler daughter whom he adores. He has done everything possible to spend as much time with little Rose as he can, and has a wonderful nanny for when he can't. When his in-laws start making noises about being the better choice to raise Rose he knows he has to do something. Though he still loves his late wife, getting married again will improve his chances of keeping his daughter.
Maureen is a zoologist who works at the animal refuge with Xander's brother Easton. She has been there for three years and loves her work. Unfortunately, her work visa is about to expire and she hasn't been able to get it extended. She doesn't want to go back to Ireland and the painful memories she left behind.
A dance during a fundraiser for the refuge brought a buried attraction to the surface. Maureen had always been aware of it, but Xander's grief kept her from doing anything about it. With her looming departure, she thought about making some sort of advance to him. That thought is interrupted when his daughter is taken ill and he leaves the dance floor. The next day he is subtly threatened with a custody battle by his in-laws. Aware of Maureen's issue with her work visa, and suddenly unhappy with the idea of her leaving, Xander proposes a marriage of convenience to solve both their problems.
I really enjoyed the development of their relationship. It started out as a simple matter of expedience, with the added complication of an intense attraction between them. That attraction initially fills Xander with a great deal of guilt, as he feels disloyal to his late wife. At the same time, Maureen feels guilty because of the deception. As they spend time together, planning the wedding and pretending that theirs is a love match, their feelings slowly begin to change. First comes giving in to the attraction. Xander and Maureen handle it in different ways. Xander gets a bit freaked out by the intensity of the experience, something that is different than what he felt for his wife, which adds to his guilt. Maureen is also surprised by the feelings stirred by Xander, but hers is because her ex-husband had been just the opposite. Xander's obvious pleasure with her was a new experience, and started to open her heart up to him. Second was their interactions with Xander's daughter Rose. Maureen was incredibly moved by Xander's obvious love for her, and his willingness to do whatever necessary for her happiness. Xander was amazed at how quickly Maureen and Rose connected, as shown by the meal they shared with his in-laws. As the wedding got closer, I loved seeing everything that Xander did to try to make it special for Maureen, especially as he learned more about her previous marriage.
By the time the wedding came, both Xander and Maureen had realized that they had fallen in love, but neither had the courage to say anything to the other. Maureen believed that Xander was still in love with Terri and would never be able to give his heart to someone else. Xander simply believed that Maureen wasn't interested in being married again, though he was determined to convince her to give their marriage a chance. The unexpected arrival of Maureen's ex brings back painful memories for her. I loved seeing Maureen blast him, and the protective instincts that have Xander giving her his support while wishing for a chance to take just one swing at him. Unfortunately, it still leaves some issues to deal with. I loved seeing Xander's brother straighten him out. It was even sweeter to see Xander show some vulnerability and Maureen realize that he's just as scared as she is. I loved the ending and seeing how they are able to move forward together.
I really liked Xander's brother and can't wait to read his story.