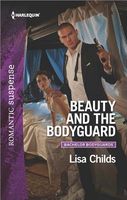 Series:
Bachelor Bodyguards
(Book 4)
Can this bachelor bodyguard save his true love from mortal danger…on her wedding day?
Bride-to-be Megan Lynch has just learned her ex, presumed dead Marine Gage Huxton, is alive after surviving enemy captivity. But before she can break up with her fiancé, gunmen storm her wedding and take hostages! Megan will do anything to stay alive -- for herself and a second chance with Gage. But there's more terror to endure before she can say yes to the dress -- and her dream groom!
What do the gunmen want? Gage works double time to unravel the mystery and save the beauty who still holds his heart. As the wedding crashers open fire, Gage puts his life on the line to protect Megan and convince her of his love.
Very intense story that takes place in less than 24 hours. Megan is in the bride's room, preparing for her wedding to Richard. She doesn't love him, but they are friends and that's good enough - she thinks. But then she remembers the way she had felt about Gage, and realizes that she can't go through with a passionless marriage. Just then, a knock at the door brings the bodyguard provided by the wedding planner, and Megan thinks she's seeing a ghost.
Gage had been an FBI agent working for her father when he fell for Megan. When she broke things off with him, he re-enlisted in the Marines to escape the pain. While in Afghanistan he was captured and tortured for six months before he was able to escape. Now he works as a bodyguard for Payne Protection. He didn't know who he was assigned to protect until he was there, and wasn't happy about it when he did. He was ready to walk out when he spotted the gunmen coming into the chapel.
From here it was a roller coaster ride of action and danger as the gunmen take hostages and try to achieve their goal. There is a lot of confusion at the beginning, as no one knows what they want and they aren't saying. Megan's father thinks it's something he's brought on as a bureau chief for the FBI. Gage worries that it's something terrorist related because of him, and Penny Payne thinks it's something from one of the security firm's cases. All the gunmen will say is that the wedding must go on. As Gage tries to protect Megan, Nikki Payne (youngest and only girl in the family) becomes a decoy, and tries to keep attention focused on her. There are a lot of twists and turns as Gage and the others try to resolve the situation. Every time they think they have a handle on the problem, something else happens to ramp up the danger. The confrontation at the chapel is intense, and they think they're home free, until the dying words of one gunman shows that it isn't over yet. By this time we have a good idea of who, what and why, but danger still stalks Megan. The final confrontation is fast and furious, but ends quite satisfactorily.
The reunion of Megan and Gage wasn't an easy one. When they had first met and fallen for each other, it was fast and they hadn't really known each other that well. Megan was rather insecure, and though she loved Gage, she found it hard to believe that he could really care for her. Therefore, she was easily influenced by a jealous coworker of Gage's and a "friend" who had his own agenda. She broke things off with Gage rather than talk to him about her fears and feelings. For his part, Gage let his pride get in the way, and when Megan broke things off, he ran instead of fighting for her. It was thoughts of her that kept him going during his captivity, but he wasn't going to admit that when he saw her again. When they were reunited, I wanted to bang their heads together. Rather than admit how glad they were to see each other again, they let pride get in the way again. But forced into each other's company, their previous attraction reignites, though each tries to resist it. Gage believes that he is no longer the man she loved and too messed up to deserve her. Megan feels guilty about the way she treated him, as she finally realizes that she'd been played. I was happy when they finally started to talk honestly, but it took nearly losing each other before they admitted their feelings. I really enjoyed the scene in the hospital room at the end.
The suspense of the story was really good, from the prologue to the very end. In the prologue we get the idea that the man in prison isn't happy about what he has found out, but there are no details. The next time we see him is in the chapel, but again, we don't know exactly who or what he is after. The addition of his female accomplice ratchets up the danger, as she doesn't seem to be quite stable. I loved seeing Nikki's involvement where she doesn't have to deal with her brothers' interference, and her abilities really shine. The more interaction between the gunmen and the good guys there is, the more questions are raised about just what they want. I began to suspect the who, but the what was a surprise until Megan's scene when locked in Penny's office. I kept wondering how they were going to resolve it while trapped in the chapel, especially with more bad guys outside to prevent them from getting help. It was exciting all the way to the last page.
I also enjoyed the secondary romance between Penny and Woodrow. I've loved her throughout the series, with the way she raised her boys and accepted their half brother too. I ached for her and the way her marriage had turned out. I liked Woodrow and his protectiveness towards his daughters. He was surprised by his attraction to Penny. I liked how he understood her issues because he had had a similar problem with his own marriage. The problems at the wedding chapel created some stress between he and Penny. The scene in the hospital room was really sweet, and I was happy for them both.